Google Cardboard and Virtual Reality in the world of Architecture: 3DS Max
Google cardboard caught my eye in late 2014. I was not one of the first to know about the new technology, but I may as well have been. When I started researching the topic let's just say information was scarce. Unless you wanted to talk about virtual pornography. I was and am interested in the technology for two reasons and from two separate, but not different, fields. As an architect I can see the value of submersing the designer and/or the client into a space and allowing them to look around. Equally, as a photographer who shoots a lot of architecture and commercial real estate, I can see the value of such a visceral virtual tour.
After doing a minimal amount of research, I purchased a plastic version of cardboard from Amazon.com. I didn't want it to be ruined by some condensation from my water glass. Adjacent are a couple photos of the device. It was made to accommodate my Galaxy Note3. There are many makers of these, and I suggest getting one that has good reviews. Some are able to accommodate many sized phones – android and ios, like the iphone, 4,5,6 and a range of similarly sized android models.
The first thing I did when the headset came was download the Google Cardboard App from the Google App Store and ride some roller coaster. I was impressed pretty quickly. Then I did some more reading and found the 'Google Camera' that allows you to make photos pheres. I suggest staring with Google Camera and playing with that for a while. It's pretty incredible. Then I began to see the light as to how I might be able to use the device in a practical and professional way. Photospheres are really just 3D panoramics. The good ones go all the way around, 360 degrees and are created by taking dozens of photographs. I was able to make a couple cool photospheres using my Galaxy Note 3 and view them in the headset. I have to admit, I thought it was pretty awesome.

I next considered the idea that I could use 3DS Max to do a similar thing. What if I took 30 photos (renderings) in 3DS max and stitched them together? Before attempting this, I had to make sure I could manually import a photo sphere, or photo-stitched ed image into the viewer (cardboard app). So, I took thirty photos using my camera, pivoting and overlapping by 50% as I turned my body. I then used Microsoft ICE to stitch them together. I uploaded the resulting image to my phone and unfortunately the Google Cardboard app did not find it. This left me confused for a bit. I read something about the naming convention used by the app, "PANO_filename.jpeg" – and so I tried to rename my image. This did not work. Then I downloaded one of the images I had created using Google Camera onto my desktop to see if there was any metadeta that was 'talking' to the 'cardboard app.' I did notice the Program Name was fixed on Google – this was the only parameter I could not change when looking at the image 'details'.  As with most new technologies, I started experimenting. I opened the jpeg created using Google Camera in Photoshop, and pasted in my own image and re-saved the file. I uploaded the file to my camera and voila. My manually stitched photo was now being found by Google Cardboard when I selected Photo Sphere.
Once I realized I could manually create photo spheres to view on the headset, I figured I could create them the same way in 3D via rendering 30+ photos and stitching them together using Microsoft ICE. There is probably a better way, but I haven't yet discovered it. I've only been at this for two days. The project I was currently working on has a roof atrium so I used that 3D model and rendered the necessary frames in much the same way you would take pictures in the real world.
EDIT: I have discovered a better way than rendering 36 frames. If you are using Mental Ray or Vray you can just use the wraparound lens shader in the Camera Effects Rollout. However, if you are using IRAY, things are still a bit more tricky. However, in the Utilities Panel, select More, then Panorama Exporter can get the job done without having to use ICE.
Another UPDATE: Once you have your rendered or manually photographed panorama, you can simply use this link to upload your jpeg, and Google will add the necessary metadata to your file so that cardboard and other apps will recognize the jpeg as a photo sphere.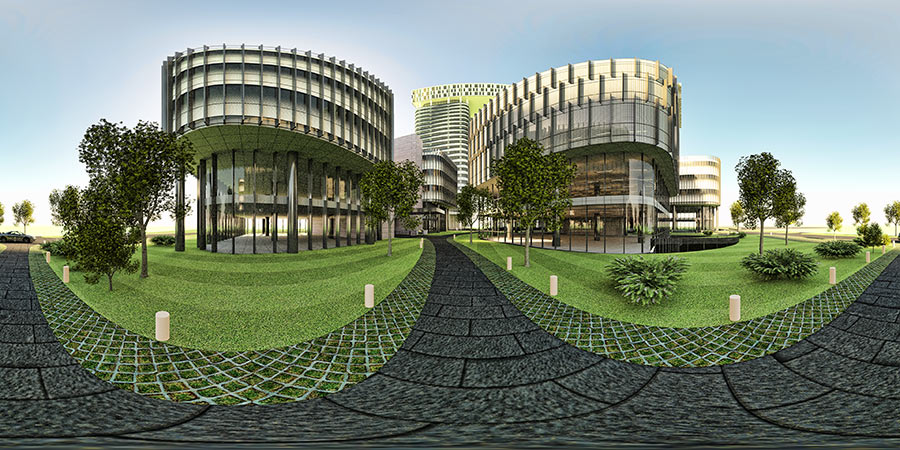 Much to my amazement, it worked. It wasn't perfect, but it was a proof of concept. I was able to load up the image on the headset and turn 360 degrees looking up and down. It was a cool moment. I had never experienced a rendering that way. Here is the download link to the rendered Photo Sphere; and here another. all you need to do is download it to your phone.
Is it working for you? Let me know in the comments!